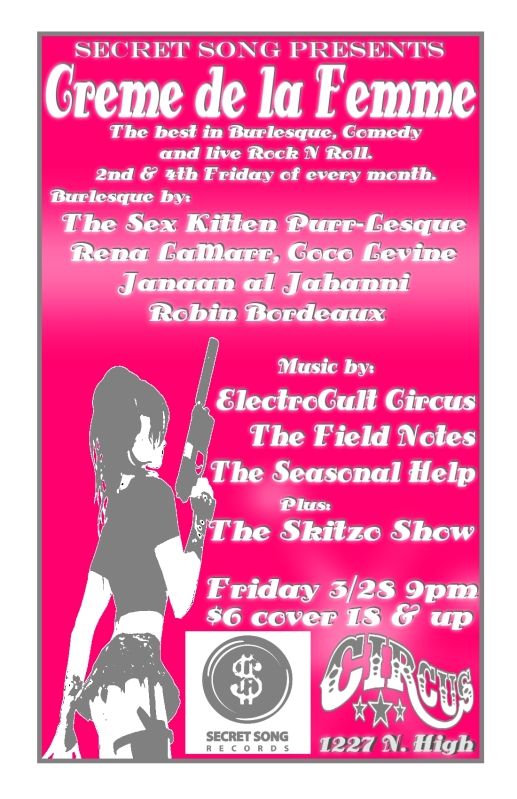 Burlesque and live music at its best.
Creme de la Femme is now twice a month! 2nd and 4th Fridays!
A multimedia fusion of live Rock N Roll, Comedy, Performance Art, and of course Burlesque.
Presented by Secret Song Records
This month we feature the beauties of:
Columbus' bad girls of burlesque, The Sex Kitten Purr-lesque
Just returning from The Southern Fried Burlesque Festival, Rena LaMarr,
Coco Levine from Athens' Boxcar Burlesque
The voluptuous beauty Robin Bordeaux
The exotic belly dance of Janaan al Jahanni
Musical guests:
The Seasonal Help
The Field Notes
ElectroCult Circus
Our DJ for the night is:
Mas Bagua's Episkopos Reverend A Davis
Plus special appearances by:
The Skitzo Show!
How will we pack this much stuff into one show? We're not sure either. So you'll just have to come down and check it out!
The best part, only $6 gets you in!
Creme de la Femme at Circus
1227 N High St near the corner of 5th and High.
You can also catch the #2 Bus.
PS Remember! 2nd and 4th Friday of every month!