it was so much more than i expected, in so many different ways.
it was the most energetic i've ever seen a nick cave show.
and that's saying something.
it was the most accessible i've ever seen nick acting.
he cracked jokes, he laughed at himself and his bandmates.
he connected with the crowd.
far too often a
bad seeds
show is very disconnected from the audience. they are on a level far above their fans, and they, as well as the crowd, know and accept that. there was NONE of this in
grinderman
. it was a humbling show, yet the band were humble. the pedestal that nick cave put himself on decades back was gone, for a week or so at least.
and truth be told, it was the sloppiest i've ever seen a nick cave show. which is to say that out of the whole night, there was maybe about 4% of the evening remotely sloppy. and to give them due credit, it was the kind of "loose show" that you can only get on day 2 of a 4 day tour. songs never once trainwrecked, but the endings to a couple of numbers definitely jumped off the tracks (although in one case, the train jumped the tracks, flew over bart & homer's heads while spinning in circles and landed right back on the tracks again!) and heaven help nick's roadie. that cat must've been in a shitstorm's amount of trouble after the gig. there were little problems galore that he was gonna get his ass kicked for later. the keyboard sound was all wrong at the beginning of "honeybee" and instead of playing it wrong, nick decided to throw roadieboy the worst death stare while chewing him out from across the stage til it was fixed. everytime roadieboy touched nick's mic-stand for any reason, the damn thing wouldn't stay put afterwards, and nick was forced to pull it back to his mouth while playing keys or guitar one handed while fighting to hold the mic in place. those mics took some serious abuse because of it. the guitar he handed nick at the beginning of "no pussy blues" was fucked (either tuning wise, or input-jack wise or something) and nick ripped the guitar from his neck and threw it at roadieboy like a weapon. although, to his credit, dude had a new guitar in nick's hands before it got to the big explosive solo.
and speaking of nick's guitar, sloppiness, and humility: the strangest moment of the whole night came when, at the very beginning of "go tell the women" when nick's playing the li'l 3 note guitar riff that sets the tone for the song, he blew the second bar of the song. all 3 notes were a good half-step off. i'd never before heard such an audible mistake from nick live, and the shock of it was only topped by the fact that in a song that quiet you could hear as the entire audience laughed at the mistake. a sold-out room laughed at nick cave. while he was playing. and then he himself busted up laughing for a second, too. and that was farandaway the least "bad seeds" moment of the night. it was perfect.
but now for the important bits: they opened with the backing loops from the song "grinderman" while the whole band played li'l hand percussion toys like sleighbells on a stick and the like. such a creepy-cool way to start out. and then it was time to go for the teeth! "get it on" just punched a hole in the thick sweat-filled air of the metro and then they followed with a version of "depth charge ethyl" that was faster and more pummeling than anything i've ever seen cave perform live.
songs like "go tell the women" and "man in the moon" really made me rethink my opinions of warren ellis. i've blamed him for the "mellowing" of the bad seeds for a little while now, and watching him wednesday night gave me the impression that while he may have encouraged a lot of nick's balladry, he's also the madman who can make a noise-filled band of carnivores something above some meatheads feeding back and screaming. he showed me just how good a violin run thru the same vintage ampeg bass-head i use can sound. and the fact that he looked like a fucking homeless guy who wandered onstage hoping to bum a smoke from the band made it even better. hell, ellis even left the stage in mid-set to go take a shit ("we're not used to american food. it's a very different thing" cave quipped during the down time) and it didn't piss me off. that's how good this show was. although truth be told, the true hero of the band was martyn casey, whose smooth bass playing was the glue that held the combo together for the night. when everything else would get wobbly, they'd all just lock back into him. everytime.
the crowd had a surprising number of "duders" who seemed to only be there to hear "that song about pussy" and they yelled for "no pussy blues" in between every fucking song (you know, in case they weren't gonna play it before these cats asked for it) and the neckbone in front of me was yelling for it during the intro to the damn song til his friend had to say "shut up, man, this is it!!!") and what made it even better was the fact that "no pussy blues" was far and away the sloppiest song of the entire night. the guitar-fucking-up-thang had really pissed nick off, and the timing of his vocals were so totally out of whack with the bass during a good third of the verses that i was wondering when they'd just stop it and start over. but then martyn would just play the line "harder" and they'd all get back in step. seriously, that guy deserved a medal.
after that, they ended the set with "love bomb" and i said to my girl "well, that's everything off the album, and the "time slot" list on the side of the stage had them listed as a 45 minute set, so we were expecting it to be done. then nick and the boys wandered back on stage, lit cigarettes (why is nick cave one of the only people alive that
really does
make smoking look cool?) and said "well, we've played all of the grinderman songs, would you like to hear some bad seeds?" and the crowd erupted. he asked for requests, and had to beg off many songs saying "we just don't have the instruments" or "we don't have the members for that one."
so then they played THEE song i was LEAST in the mood to hear a grinderman version of: "red right hand" and i was almost to the eye-rolling point when they hit the breakdown in the middle of the song, and the stabs came down from above like the heaviest thing you'd ever heard outta the swans. it became crushing, in a way that few artists this side of foetus can actually pull off. and it won me over. and maybe, just maybe, i'll dread hearing that song a little less each time now. for the memories of that sound, if nothing else.
next came "the weeping song" and i about shit. and then the guys found a way to suck all the "pop" out of "deanna" and make that a scary fucking number. i was bummed when not only did they play "lyre of orpheus" but they made it a crowd sing-along. mind you, it's not a bad song as far as the nick piano-ballads go, but it weren't no "tupelo" and i just couldn't get the thought out of my head about how good that song would sound with this band. but again, it sounded better live than it ever did on disc, and it won me over by the end. and then they left the stage again. and i almost felt cheated that they ended on such a mellow note.
until they came back yet again. and by this point nick's li'l sheet music stand was just chock full of lyrics to songs they just weren't ready to play like (keeping in mind, this was the first gig they've headlined as a band yet, so this was the very first chance for them to encore, or even attempt to play any bad seeds numbers live) and it was pretty fun to watch the band debate songs, keys that songs were in, and how said songs were supposed to start. it really kinda hit home at that point that as professional as these cats are, they are VERY much a "studio" band, and always have been. live shows are kind of an afterthought in the bad seeds world, i think. they knock 'em out of the park, but that's not what the job is to them. the job is making the records. but i digress. after settling on a couple of choices (and laughing at the people yelling for "in the ghetto" the whole encore: "that's not a bad seeds song, young man!") they knocked out the most perfect version of "the ship song" you could imagine, and then made the whole fucking room erupt when they kicked into an unreal, violent take on "jack the ripper" that gave EVERYONE chills. then nick said "thank you*" and walked off the stage, as the rest of the band followed. but where nick actually left the stage, the other 3 had a quick huddle on the edge of stage-left and turned around without a word, strapped their guitars back on, and broke into the heavy outro part of "jack" again, beat the shit out of it, made the whole crowd expect nick to jump back onstage all james brown style, and then stopped again, on a fucking dime after about 6 bars, and walked offstage without so much as a nod toward the crowd. brilliant!
the two non-musical bummers for the night were absolutely no merchandise (man, i wanted a green monkey t-shirt) and the fact that ol' nicky trimmed a lot fo the "fu manchu" part of the mustache away. although don't get me wrong, it was still a more impressive 'stach than anyone this side of jason lee, or 70's burt.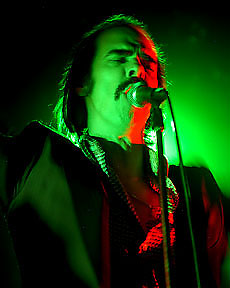 photo stolen from tony bonyata
anyway, this is gonna be hard for anything to top as show of the year. hell, it might be show of the year for a couple of years
* actually, this was the funniest part of the night, that almost nobody caught. what nick said was "thank you, we're the bad seeds, goodnight" and took like 3 steps from the mic, only to stop, screw up his face in the realization "hey, waitaminute, we're NOT the bad seeds, we're grinderman" and think about it again for another second, and walked offstage kinda smirking to himself. again, more humble and human than i've ever even imagined nick cave to be.